Le Journal de Paris de août 1624
Recording the events of Paris and beyond during août 1624
New arrival from London
We welcome this month Henry Lightfoot, newly arrived from religious persecution in London. Henry's father, Earl Lightfoot was arrested for non-payment of fines for his recusancy. Henry has thrown himself into the maelstrom of Parisian society, albeit during one of the hottest seasons for both the summer temperatures and the attitudes of those below the bottom of the pile1.
Rioting in quartier rouge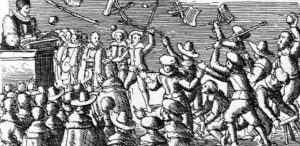 The recent hot weather seemed to have triggered trouble in the poorest district of Paris, Le Quartier Rouge. The cause of the rioting is still very uncertain, with various causes ranging from outrage at poor quality wines being sold to disappearances of some of the inhabitants being suggested. Some of our gentlemen have been caught up in the troubles, with both Aline Yar and Henry Lightfoot reporting that they had been subject of pickpockets in the crowd as they attempted to discreetly leave the area, while Roget Thésaurus claims to have avoided trouble by staying over night.
Formal Challenge
After the physicians at Hôpital de la Charité gave Jean Huile a clean bill of health, Jean Huile has challenged Fourier Transformée to a duel to be resolved during the first week of septembre. As readers will recall M. Huile discovered M. Transformée on the doorstep of his good lady friend, Victoria Gainsbourg during juin. Roget Thésaurus has offered his services as second to Jean Huile.
Relief for rumour mongers
We hear that Auriane Delaunay has been the centre of attention this month with several reports of gentlemen attempting to win her heart this month. However despite the many dinner dates Mlle. Auriane has spurned all comers this month. Perhaps fortunately for both the lady and her gentleman admirers those after her heart chose different weeks to make their attempts and hence avoided giving each other offence.
Meanwhile at the Beaumont household, Albert Kestrel2 was seen delivering flowers and making dinner invitations. All perfectly normal one might imagine given M. Kestrel's love affair with the younger sister, Mlle. Élisabeth Beaumont. Rumours from the household suggest that he was visiting the older sister, Mlle. Lesly Beaumont and that he had to make significant amends to his paramour the following week.
Marius Thibodeux has managed to find the perfect recipe for the gourmand, Mlle. Émilie Beaufils, who not only enjoyed the meal, but allowed M. Thibodeux a long and complex evening of entertainment and explanations.
Plays popular, but no one play wins out
With the hot weather driving most daytime activities out of the question, many of our gentlemen were driven to the cooler night time plays at out theatre. However with the wide variety of plays on offer no one play could be described as the most popular. Perhaps in an attempt to resolve this, Guillame de Batz is sponsoring a new play, Les Boutons Manquant whose opening night will be on the autumnal equinox during the third week of septembre. With plenty of opportunity for hobnobbing with other gentry, the opening night promises to be a busy evening3.
Victory at Château de Montaigle
Reports from the front line of the summer campaign report that the main thrust of the war this year was to secure the approaches to the city of Namur. We believe that the main battle was the siege of the old castle ruins at Château de Montaigle which has been taken by our forces. We hope for a more detailed report and for information about Captain Omer Dalors' endeavours next month.
Renovations at Hunter's
The old court billiard court at Hunter's is being relaid at the expense of Phillipe Lemoine. However old hands are outraged at the changes being made with the old turf being replaced with some kind of wood and fabric construction. We'll have to take this indoors to protect it from the autumn storms fumed one old hand. Suggestions from M. Lemoine that that's actually the point didn't go over too well and Phillipe was seen recovering at the banks of the Seine with his usual cronies and friends including Guillame de Batz (when not practising at Le Perche du Coudray), Gisèle Barthélemy and Rene Descartes (who had suggested that the new billiard surface should be marked out with a grid, further outraging the old hands...).
Le Perche du Coudray Updates
Le Perche du Coudray, the famous fencing master, offers his congratulations to Jean Huile and Marius Thibodeux, who have both completed a course of Coudray's rapier training. Jean Huile's Rapier Expertise is now rated at 11, while Marius Thibodeux is now rated at 17.
Regimental News
General
As a general note, each regiment has an unlimited number of Subaltern positions, six Captaincies, three Majors, one Lieutenant Colonel and one Colonel.
King's Musketeers
We regret that we cannot accept Henry Lightfoot's application to join the regiment at this time. Better luck next month.
Royal Marines
Congratulations to both Cochon de Lait and Fourier Transformée for their promotion to Subaltern. We particularly congratulate Cochon de Lait for the presentation of an engraving of our colonel.
Picardy Musketeers
As we continue to promote those best able to achieve the regiment's aims, we welcome both Jean Huile and Marius Thibodeux of their respective companies (D company for M. Huile, B company for M. Thibodeux).
Hortus Bulborum Farms
We have the perfect fields for the growing of perfect tulips and demand for the flower is growing! Plots from only 100 crowns! 10% returns over the last year!4
100 Crowns Reward!
Provision of information leading to the arrest of the known traitor, Helen Transformée will be rewarded with up to 100 crowns.
Apply to the Commissioner of Public Safety
Have you seen this child? Missing since 29 août.
Last seen near the tailor's guild - any information should be supplied to the guild.
---
The Greasy Pole
SL

Status Level as of the end of the month

±

Change in status level this month

SP

Status Points earned this month (blank if the character is out of Paris during the month).

Position

Regiment and Rank and other posts if any

Location

Location during the current month if out of Paris
Femmes Fatales
| Name | SL | Attributes | Last Seen With |
| --- | --- | --- | --- |
| Auriane Delaunay | 7 | Influential, Wealthy | |
| Flora Pernet | 7 | Stunning, Influential | Cochon de Lait |
| Solène Prudhomme | 12 | Wealthy | |
| Micheline Barbet | 15 | Influential | |
| Élisabeth Beaumont | 8 | | Albert Kestrel |
| Brigitte Silvestre | 8 | | |
| Albane Bacque | 15 | | |
| Lesly Beaumont | 11 | Wealthy | |
| Aurélie Pueyrredón | 9 | Wealthy | Sir Alex Kuzbidon |
| Bernadette Cuvier | 7 | Stunning, Influential | Guillame De Batz |
| Émilie Beaufils | 11 | Influential, Wealthy | Marius Thibodeux |
| Victoria Gainsbourg | 5 | Wealthy | Jean Huile |
| Gisèle Barthélemy | 14 | Stunning, Influential | Phillip Lemoine |
| Roseline Geffroy | 11 | | |
---
Last updated: December 21, 2021 at 19:36 pm
20 Feb 2018

Minor update to the rank of Cochon de Lait and the club of Fourier Transformée

28 Feb 2018

Image links updated to point to attachment pages.
---
---